Don Prudencio Benito, born in Santibáñez de Béjar (Salamanca), began his journey selling olive oil and paprika in the mountain villages with the help of a mule and cart. One of his routes led him to Villacastín (Segovia), a small town in the heart of the Sierra de Azálvaro mountains, recognised since the 15th century for its production of cured pork products thanks to its favourable climate.
Thus it was that Don Prudencio in 1910 decided to buy an old house in the area and founded LA PRUDENCIA, a company he named in honour of the women in his house.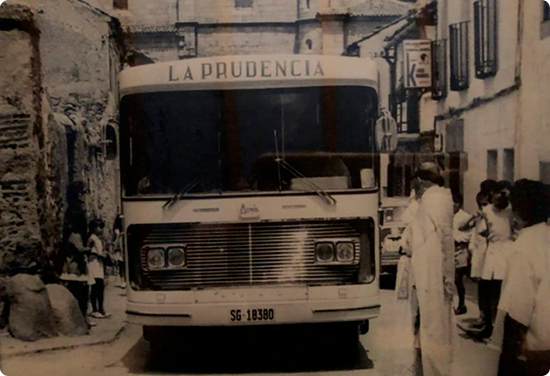 Following centuries-old traditions, Don Prudencio established one of the first slaughterhouses and production facilities in the region. The third and fourth generation, the grandchildren and great-grandchildren of the founder, now carry forward these ancestral standards with the aim of achieving exquisite products that combine both quality and tradition.
At La Prudencia, we differentiate ourselves through our control of the entire production process, from the breeding of the Ibérico pig to its feeding and rearing on our own farms in Zafra, Extremadura.
We have our own slaughterhouse and processing room, where we ensure the traceability of all our products.
The very slow curing in our drying rooms and natural storehouses at 1200 metres above sea level, the long maturation, climate and meteorological conditions, along with the low salt content, all combine to make our products unique. Hams and shoulders with exquisite flavour, as well as some special cold meats evocative of village flavours.